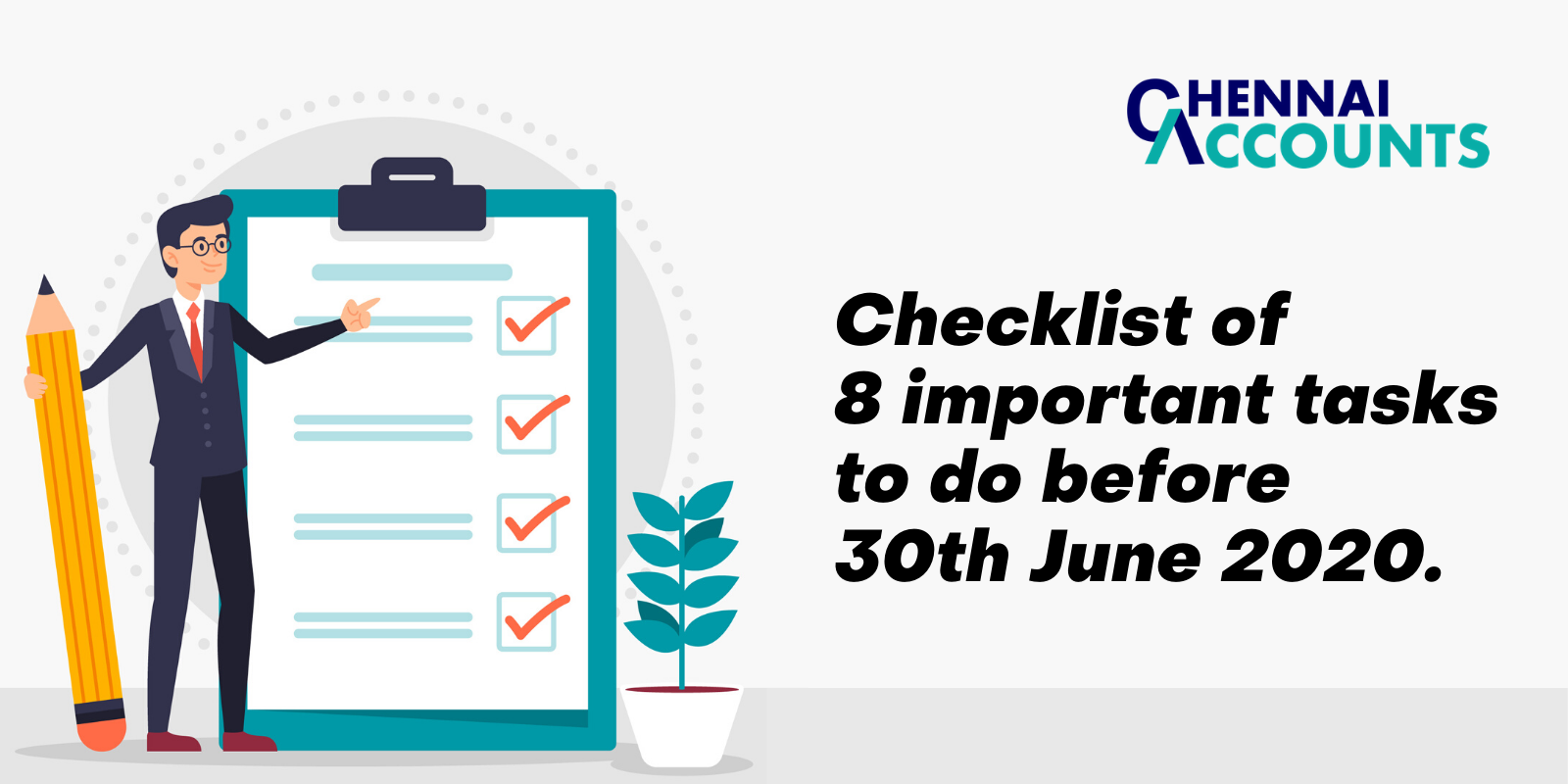 In this article, let's check the list of important tasks relating to our Income tax return filing which have to do before this month-end, June 2020 The tasks are listed below
Revised ITR for FY 2018-19 – Final deadline for non-filers of ITR for 2018-19, you can file it as a revised ITR by 30th June 2020.
Take Form-16 from the company – Collect your Form 16 from Companies, if TDS on salary is deducted, companies have to issue from 15th June 2020 to 30th June 2020
Submit Form 15G / 15H – If there is no tax liability on your total income, then one of the two forms can be filled before 30th June 2020.
Deposit in small savings schemes– No penalty for not Depositing Minimum amount in PPF and Sukanya Samriddhi Yojana account. This applies for Recurring deposits for April & May 2020. The penalty will be levied after 30th June 2020.
Tax Saving Investments – You can invest in tax-free schemes under 80C and 80D till 30th June 2020 for the financial year 2019-20.
Extension of PPF / SSY account – To continue with the PPF and SSY (Sukanya Samriddhi Yojana) account which was matured on 31st March 2020 and have not been able to get it due to lockdown, then you have time till 30th June 2020 to do so.
Investment in Senior Citizen Saving Scheme – retirees aged 55-60 years can invest in SCSS scheme within one month of getting retirement benefits. the last date for employees retiring between Feb to April 2020 can invest till 30th June 2020.
Don't wait till the last day & rush to file your returns, take a long breath check all the above-mentioned tasks have been completed before the extended due date.
If you want to know the other statutory due dates for this June 2020, click here